Thermopile Detector for Gas Analysis
Featured Product from Dexter Research Center, Inc.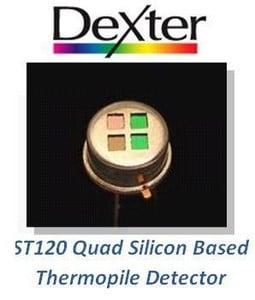 Dexter Research - Gas Analysis Thermopile Detector
Applications:
Excellent for gas analysis, position sensor, and horizon sensor.
A four-channel silicon-based thermopile in a TO-5 package. Each small active area is 1.2mm x 1.2mm . Time constant of 25ms with Nitrogen encapsulation gas. Delivers a very low Temperature Coefficient of Responsivity of -0.04%/°C. This detector has a very short thermal shock response to ambient temperature change. View additional information...
Leader in Infrared Thermopile Detectors:
Dexter Research Center, Inc. was founded by Robert Toth, Ph.D in 1977. A leading thin film and materials expert, Bob believed then and now that:
No other infrared device outperforms a thermopile as an affordable detector, and
There is no substitute for collaboration as a means to optimize infrared detector performance, packaging, reliability and durability to surpass the current benchmarks and beyond our customer expectations.
From either the perspective of systems performance or systems cost, customized applications of Dexter Research's thermopile technology continue to be the preferred solutions to today's burgeoning infrared detector market.
However, we know that we cannot rest on our laurels and reputation. As a result, Dexter Research has undertaken an aggressive organization development program to support our customers.
Today, Dexter Research offers 31 core thermopile products, more than all global competitors combined, each 100% tested for industry-leading quality. We now provide our customers with a choice from over 800 thermopile configurations, and we have new thermopile detectors coming on-line and new customers using our products around the world.
Extensive line of Dexter Products includes:
Temperature Detector Products
Security/Detection Detectors
Laser Power and Targeting Detectors
Gas Analysis Detectors
Fire Suppression/Detection
Infrared Imaging Products
Specialty Products: Thermopile Development Tools, Thermacon Motion Sensors, Integrated Temperature Measurement Solutions
Infrared Thermopile Detectors