Boiler feeding Centrifugal Pumps
Featured Product from Dickow Pump Company, Inc.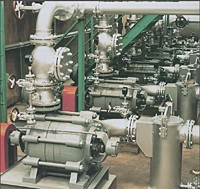 HZ Multi-Stage Centrifugal Pump
HZA Multi-Stage Centrifugal Pump
Centrifugal Pumps Type HZ/HZA
HZ / HZA-Pumps are applicated in the industrial and municipal water supply, in pressure increasing plants, for handling condensates, for boiler feeding, as firefighting pumps and for various other applications.
The type HZA of end suction design has been developed for operating conditions with low NPSHA-values. The wear resistant SiC-sleeve bearing on the suction side reduces the maintenance costs because there is no second mechanical seal required.
The performance range is subdivided to achieve best efficiencies for all service conditions.
With a wide selection of materials and the possibility of applying several shaft sealing systems as well as a hermetically sealed permanent magnetic coupling, the HZ / HZA- pumps are suitable for handling almost all kinds of liquids which are free of abrasive solids and of suitable viscosity.
Dickow Pump Company has produced pumps for over 100 years. Our pumps are working steadily and dependably in all corners of the globe.
As the technical world leader in magnetic drive pumps, Dickow holds many patents, is ISO 9001 certified, and is a supplier-partner of major chemical companies.
Click Here for our MAG-Safe Temperature Monitoring System