self-priming horizontal side-channel pump
Featured Product from Dickow Pump Company, Inc.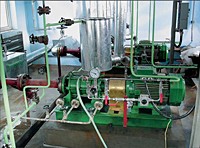 Self-priming Side-Channel Pumps Type SC
The DICKOW-pump, type SC, is a one or multi-stage, self-priming horizontal side-channel pump. The side-channel pump with its high differential head - also at low speed - has the advantage of operating more economically than normal centrifugal pumps applied for low capacity and high heads. Due to these facts, the side-channel pumps are able to solve many pumping problems in the chemical and petrochemical process plants. The SC-pumps are also able to prime empty suction lines after initially filling with liquid before start-up. The maximum allowable operating temperature is 240 C (465 F).
Specifications:
Maximum Allowable Working Pressure: 40 bar (600 lbs)
Maximum Temperature: 250°C (480°F)
Dickow Pump Company has produced pumps for over 100 years. Our pumps are working steadily and dependably in all corners of the globe.
As the technical world leader in magnetic drive pumps, Dickow holds many patents, is ISO 9001 certified, and is a supplier-partner of major chemical companies.
Click Here for our MAG-Safe Temperature Monitoring System