BKL - Zero Backlash Bellows Couplings
Product Announcement from DieQua Corporation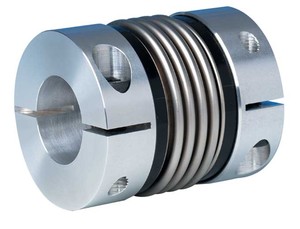 The R+W bellow coupling offers zero backlash, low inertia, and high torsional rigidity. This coupling series is available in a wide variety of sizes and connection configurations.
Specifications:
•Torque capacities from 0.1 - 10,000Nm
•Bore size from 1 - 180 mm
•Inch bores available
Features and Benifits:
•Zero Backlash - Provides exact position and rotary motion.
•High Torsional Rigidity - Maintains exact position when starting and stopping.
•Low Inertia - Allows faster acceleration and deceleration with lower torque.
•Compensates Misalignment - Allows axial, lateral, and angular misalignment for easier mounting.
•Multiple Connections - Split hub clamping, conical hub clamping, or the unique axial taper fit connection provide maximum design versatility in inch or metric bores.
•Maintenance Free - No moving parts means unlimited life with proper mounting.
•Available in stainless steel.
---