Reversing & Disengaging Tandler Spiral Bevel
Featured Product from DieQua Corporation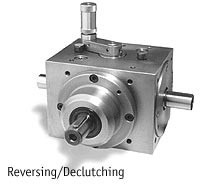 The Tandler spiral bevel gearbox series "S" and "AS" offer output shaft rotation reversing or disengagement capabilities in a right angle gearbox through the manual actuation of a two or three position spring loaded switch handle. Motion must be completely stopped and the gears unloaded before the handle position can be changed.
This gearbox is ideal for detaching a station from a multi axis machine when not required. Tool changeover or other maintenance operations could also be performed with reduced operator risk.
This box is also available with an optional reverse gear. Jogging out of machine jams, changing web paths for back side printing, main drive changes of direction are just a few possible applications.
Features and Benefits:
Low Backlash – Precision gearing and matched set engagement components assure reduced gear play.
Mounting Flexibility – Machined surfaces and tapped holes on all sides provide mounting versatility.
Mounting Accuracy – Centering rings on three surfaces allow for precise shaft alignment.
Customized Designs – A variety of options and dimension modifications are available to provide maximum design versatility.
Specifications:
Seven sizes with torque capacities up to 2000 Nm
Five ratios from 1:1 to 2:1
Power capacities from 1 to 200 HP
Standard backlash of 7-8 arc minutes
See additional specifications.
Contact Tech Support personnel: 630-980-1133
Email your application: info@diequa.com
See other bevel gearbox models and configurations
View spiral bevel gearbox overview video