Screw Jack Systems
Product Announcement from DieQua Corporation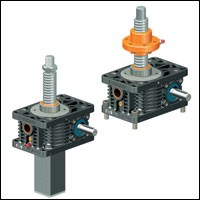 Most screw jack lifting systems require multi-jack configurations with a variety of drive, connecting and safety components. Only the Zimm series from DieQua gives you all the options in a complete package with the most advanced design. Check out the benefits and get the application guide.
Zimm Screw Jack Systems offer comprehensive lifting and positioning design solutions for a wide variety of industries. Highly accurate and extremely reliable machine screw and ball screw jacks are matched with an extensive range of drive, connection, motion control, safety, and protection components to provide a complete package from a single source.
DieQua offers system design assistance, taking the guess work out of product selection. Our years of application experience assures that all elements of the design process are considered. We also offer full assembly drawings, which provides time saving value and guarantees the correct system components are integrated into your design.
Download our PDF application guide.
Specifications:
2 versions - traveling screw and traveling nut
11 sizes with lift capacities from 0.5 to 100 tons
2 machine screw and multiple ball screw lift rate options
Features & Benefits:
Precision Machine Screws - Provides accurate positioning and reduced wear in low duty applications.
Precision Ball Screws - Provides accurate positioning and reduced wear in high duty applications.
Standing and Rotating Version - Provides lifting and positioning design versatility.
Multiple Nut Designs - Widest range available including standard, duplex, self-aligning and greaseless versions allows for the optimum nut selection to maximize life and reduce maintenance.
Multiple Spindle End Designs - Several standing version spindle end components including fixing flanges, rod ends, forked heads and pivot bearing heads provide unmatched load connection design options.
Motion Control Options - Linear and rotary encoders, limit switches, brakes, and an anti-backlash option provide increased automation capabilities.
Protection and Safety Options - Protection tubes, spindle covers, anti-rotation devices, and safety nuts provide protection and safety for system components.
Connection Options - A variety of coupling and lineshaft options are offered to connect all drive components.
Modular Housing - Machined surfaces allow easier attachment of mounting accessories and provides an aesthetically pleasing presentation.
Accessories Available - Motor flanges, hand wheels, bearing plates, and lubrication options provide additional design versatility.
Download our engineering catalog.
DieQua Corporation is a manufacturer and supplier of a wide range of gearboxes, gearheads, gearmotors and speed reducers, along with appropriate connecting components, for both general power transmission and precise motion control. We prefer a consultative approach to find the optimal solution for your unique requirements and to be an extension of your design team. Contact us to help satisfy your next gearbox selection challenge.
---