The Smallest Precision Reduction Gear
Featured Product from DieQua Corporation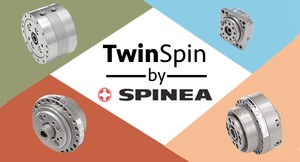 The Spinea TwinSpin (TS) high precision reduction gears are designed for applications requiring a high reduction ratio, high accuracy, zero backlash, high moment capacity and high stiffness in a compact design with a limited space for installation.
The TS high precision reduction gears are based on a revolutionary reduction mechanism and a new design of the radial-axial output bearing configuration. This new transmission concept allows the use of the TS reduction gear directly in robot joints, rotary tables, and other locations requiring precise positioning.
Download the Engineering Catalog
Benefits:
Zero Backlash
High Moment Capacity
High Positioning Accuracy
High Positioning Repeatability
High Torsional and Tilting Stiffness
Small Envelope Size
High Torque Density
High Reduction Ratios
High Efficiency
Long Lifetime
Easy Assembly
No Maintenance
Specifications:
10 sizes to choose from
Nominal torque capacity from 37-2900 Nm
Peak torque capacity from 75 to 7350 Nm
Multiple ratios from 35:1 to 191:1
Check out a cross section, additional specs and torque capacities.
DieQua offers the widest range of inline and right angle servo gearhead solutions available from a single source. See the complete lineup to find the optimal solution for your needs.