Driving the Future of Automobiles
Featured Product from Digi-Key Electronics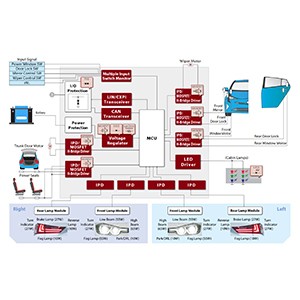 ROHM Semiconductor offers high-performance ICs and power devices essential for the automotive industry's move towards electronification. ROHM's extensive lineup supports a variety of automotive solutions, including infotainment/cluster, body ECU, EV, ADAS, and powertrain.
To provide the superior quality and stable supply demanded by the automotive industry, ROHM utilizes a vertically integrated system - a key advantage - in which all manufacturing stages are carried out completely in-house, from silicon ingot pulling and photomask production to wafer processing, lead frame molding, and packaging.
ROHM has recently announced the addition of 10 new automotive-grade SiC MOSFETs. The SCT3xxxxxHR series allows ROHM to offer the industry's largest lineup of AEC-Q101 qualified SiC MOSFETs that provide the high reliability necessary for automotive onboard chargers and DC/DC converters.