Hammond 1557 Series IP68 Enclosures
Featured Product from Digi-Key Electronics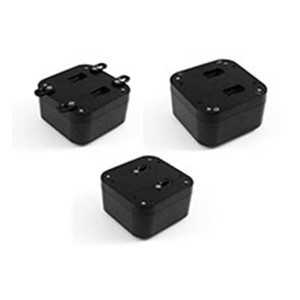 Hammond Manufacturing's 1557 series of watertight enclosures offer the superior agency listings and watertight protection of traditional Hammond screw-cover enclosures, while also featuring a modern look with soft curves and more versatility for use in a wide variety of applications.
Initially available in four plan sizes, each in two heights, 1557 is available in polycarbonate, sealed to IP68, and ABS, designed to meet IP66. The sizes are 80 x 80 mm in heights of 45 mm or 60 mm, and 120 x 120 mm, 160 x 160 mm, and 200 x 200 mm in heights of 45 mm or 70 mm. All versions are available in black and light gray.
The 1557 series enclosures include hardware for configuration in three modes: heavy-duty flange wall-mount, flush wall-mount, desktop/tabletop.
In heavy-duty wall-mount mode, the boxes utilize a set of two or four wall-mounting tabs which are securely screwed to the back of the enclosure. The tabs protrude out from the edge of the enclosure which allows the user to securely mount the enclosure to the wall using the hardware of their choice. This is ideal for applications where security is critical and where the installation is permanent.
In flush-mount mode, the boxes utilize the same wall-mounting tabs except they are flipped around and installed into cavities on the back of the enclosure. In this configuration, the tabs act as keyhole slots which allow for a more elegant, flush-mount appearance. This configuration is also ideal for applications where the enclosure will be temporarily affixed to the wall.
Each 1557 series enclosure includes four adhesive rubber feet for use in desktop/tabletop mode. In this mode, the wall-mount tabs are no longer used, and rubber feet are placed in each corner. There is a recessed area in each corner sized for the feet to ensure proper placement, maintain a lower profile, and to keep the feet securely in place.
Accessories include liquid-tight cord grips/cable glands and pole-mount kits.
Features
Ideally suited for mounting printed circuit boards
Can be used in a tabletop configuration or two different wall-mount configurations
Rounded corners and face provide a more modern look while still offering superior watertight ratings
Available in black or gray ABS plastic
ABS versions are molded from general-purpose material which carries a flammability rating of UL94-HB and is for indoor use
Polycarbonate versions are UV stabilized for outdoor use and carry a UL94-5VA flammability rating for indoor or outdoor use
Polycarbonate versions are cUL and UL 508A listed (File #E65324) and ABS plastic versions are not UL listed
Gasketed lid with two-piece "tongue and groove" construction protects against the access of oil, dust, and water
The gasket is one-piece made from high-temperature, U.L. listed silicone
ABS versions are designed to meet IP66
The lid is secured with included M4 stainless-steel machine screws which are threaded into integral stainless-steel bushings for repetitive assembly and disassembly and all hardware is stainless-steel to avoid corrosion caused by dissimilar metals