Infineon Digital-Based USB Power Delivery
Featured Product from Digi-Key Electronics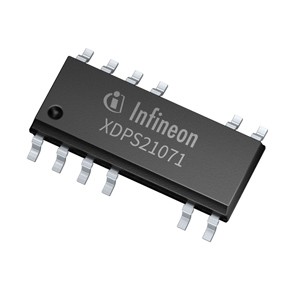 The charger market is moving towards maximized power density and unification enabled by the so called USB-PD protocol. With more devices switching to USB charging, the power delivery adoption is growing. The goals of introducing a single charging standard to be used across all USB devices are, on the one hand, ease-of-use and reduction of clutter for consumers, and on the other, fighting the problem of increasing e-waste.
The USB PD standard allows charging quickly over a USB connection. The specification caters to much higher power ratings than typical smartphone-targeted charging designs, as it is intended to power hard drives, printers, and displays, as well as larger portable electronics like laptops. In other words, it enables increased power levels from existing USB standards. The maximum 100 W power supply is achieved with 20 V and up to 5 A. Making use of the highest power modes also requires specially rated USB cables, as standard cables are only rated for 7.5 W at most. In addition to faster charging, this USB standard enables both host and peripheral devices to provide power, the power direction is no longer fixed. Essential is the communication of a suitable "power rule", i.e. the source and the host exchange their requirements to figure out how much power to transfer. In this way, power management across multiple peripherals is optimized. Each device is supplied only the power it requires (e.g. low power cases such as headsets vs. a laptop being a high power case).
USB PD as a single-cable solution is a smaller, thinner and more robust alternative to existing USB interconnects. It mostly addresses consumer goods chargers and adapters where small form factors, high reliability and a well-balanced performance-cost-ratio count.
This is where Infineon comes into play. Designers are served with a comprehensive semiconductor portfolio of low RDS(on) high-voltage and low-voltage power MOSFETs that accommodates high power density while appropriately addressing thermal management and potential EMI issues. Boards and magnetics are automatically assembled. The focus on SMD packages results in fewer external components as well as in improved production performance related cost savings. With planar transformers and soft-switching control, customers can easily come up with slim designs. The digital-based control allows customers to differentiate substantially. Infineon has already developed several high performance USB PD solutions, one of them being a ready-to-use USB PD 45 W reference design which is now available for ordering.