MAX22505 High-Speed USB Port Protector
Featured Product from Digi-Key Electronics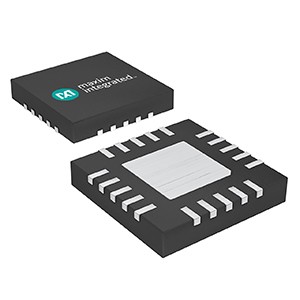 Maxim's high-speed USB port protector is designed to protect a USB port on commercial and industrial equipment against damage due to faulty or incorrectly wired power supplies. The USB port is protected against connection to typical 24 VDC or 24 VAC systems with a maximum data line protection of ±40.7 V and power/ground line protection up to ±50 V.
The VBUS, ground, and connector shield connections can be configured for any level of ESD, burst, and surge protection by choosing external components. USB data D+ and D- are protected by external diode clamps to VBUS and GND, allowing for the lowest possible insertion loss while providing high ESD and burst protection.
The devices is housed in a 24-pin, 4 mm x 4 mm TQFN package with exposed pad and is specified for operation over the -40°C to +105°C temperature range.
Features

Robust communications

Integrated ±50 V

DC

protection for V

BUS

/GND
Integrated ±40.7 V

DC

protection for D+/D-
Thermal shutdown protected
-40°C to +105°C operating temperature

Flexibility

Transparent to USB operation speeds
Configurationless USB host or device protection
Optional external MOSFET driver for V

BUS

and GND paths

Proprietary constant on-time control

High performance

Transparent to USB operation speeds
Configurationless USB host or device protection
4 Ω (typ) V

BUS

/D+/D- channel resistance
1 Ω (max) GND channel resistance
High-speed USB disable mode allowing operation with high common mode voltages

Supports USB OTG
Simpler than USB isolation

Applications

Diagnostic USB ports
Industrial PCs

Programmable logic controllers (PLC)