NKK M Series/S Series Dual Seal Waterproof Toggles
Featured Product from DigiKey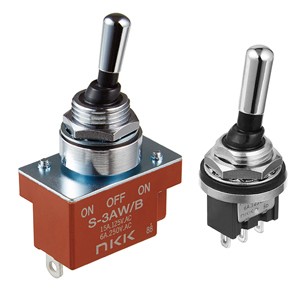 NKK's dual seal waterproof toggles include the M series and the S series. These switches offer highly reliable, double layer waterproof IP-rated construction. The major advantage of these toggles is an all-in-one rugged toggle switch with a silicone rubber boot integrated into the body of the switch and double seal protection to further ensure security against wet environments. The sleek design incorporates functionality with a polished, chrome-plated actuator. Both have an IP68 rating, protecting against immersion of 5 cm up to 1.5 m, and is salt spray tested per MIL-STD-810G section 509.5.
The M series toggle is miniature, designed for use in high-density boards.
The S series dual seal waterproof toggle is available in ten configurations with electrical capacity ranging from 15 A at 125 VAC, 6 A at 250 VAC, and 20 A at 30 VDC.
Features
Dust-tight construction
Waterproof boot
Polished, chrome-plated actuator
Smooth, sturdy actuation and tactile feel
Meets IP68 standards
Tested to meet MIL-STD-810G standards
Applications
Construction machinery
Transportation equipment
Food service equipment
Medical devices
Tough environments