TI's THVD2450 ±70 V Fault-Protected Transceiver
Featured Product from Digi-Key Electronics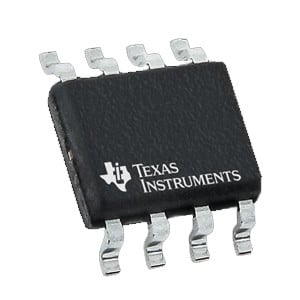 Texas Instruments' THVD2450 is a ±70 V fault-protected, half-duplex RS-485 transceiver that operates on a single 3 V to 5.5 V supply. The bus interface pins are protected against overvoltage conditions during modes of operation to ensure robust communication in rugged industrial environments.
This transceiver device features integrated IEC ESD protection eliminating the need for external system-level protection components. The extended ±25 V input common-mode range provides reliable data communication over longer cable run lengths and/or in the presence of large ground loop voltages. Enhanced 250 mV receiver hysteresis ensures high noise rejection. The receiver's failsafe feature offers a logic high when the inputs are open or shorted together.
The THVD2450 device is available in small VSSOP and VSON packages making it suitable for space-constrained applications. These devices are characterized over an ambient free-air temperature range of -40°C to +125°C.
Features
Meets or exceeds the requirements of the TIA/EIA-485A standards
Supply voltage: 3 V to 5.5 V
Differential output exceeds 2.1 V for PROFIBUS compatibility with 5 V supply
Bus I/O protection:

DC bus fault: ±70 V

DC

HBM ESD: ±16 kV
IEC 61000-4-2 contact discharge: ±12 kV
IEC 61000-4-2 air-gap discharge: ±12 kV
IEC 61000-4-4 fast transient burst: ±4 kV

Half-duplex device with a speed grade of 50 Mbps
Extended ambient temperature range: -40°C to +125°C
Extended operational common-mode range: ±25 V
Enhanced receiver hysteresis for noise immunity
Low power consumption
Glitch-free power-up/down for hot plug-in capability
Open, short, and idle bus failsafe
Thermal shutdown
1/8 unit load (up to 256 bus nodes)
Packages: small VSON and VSSOP to save board space and the SOIC for drop-in compatibility
Applications
Motor drives
Factory automation and controls
HVAC systems
Building automation
Grid infrastructure
Electricity meters
Process analytics
Video surveillance
Seismic test equipment