Ultra-Web SB Pleated Bags
Product Announcement from Donaldson Torit – Donaldson Company, Inc.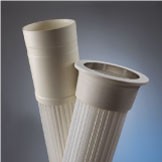 The Donaldson Torit Ultra-Web SB pleated filter bags consist of a layer of nanofibers (most of which are only 0.3 microns in diameter) over a sturdy spunbond polyester substrate. The substrate is known to work well in applications where agglomerative dust is problematic – including food, pharmaceutical, cosmetic, cement, gypsum, rock, paint, chemical, and others.

"Baghouse dust collector owners have asked us for nanofiber technology," Mike Casey, Aftermarket Director for Donaldson Torit, explained. "Now, Ultra-Web is available in a pleated bag style, to complement our full line of industrial filtration products. The new pleated bags are designed to fit most popular brands of bag collectors."

For those currently using fabric style filter bags, the new Donaldson Torit pleated bag will provide more filter media, and therefore higher airflow capacity, as well as a lower pressure resistance across the filter media, which allows a more efficient use of the baghouse fan and energy savings.

Ultra-Web SB pleated filter bags are designed to optimize performance in self-cleaning (pulse-jet) baghouses. The nanofiber technology keeps the dust on the surface of the filter media where it is easily pulsed off during the collector's cleaning cycle. This surface loading result in lower and more consistent operational pressure drop and longer filter life.

For baghouse operators who have already made the switch to pleated filter bags, Ultra-Web SB offers higher filtration performance than current spun bonded media. The surface loading performance of the Ultra-Web nanofiber technology means lower pressure drop and longer filter life.

MINNEAPOLIS, MN - April 30, 2007- Donaldson Company, Inc., (NYSE:DCI), a leading manufacturer of industrial air filters, announces the availability of pleated filter bags made with Donaldson's patented Ultra-Web® filter technology, creating the first filter ever with nanofiber media technology for bag-style dust collectors. With Donaldson Torit® Ultra-Web® SB pleated filter bags, baghouse collectors can achieve filtration efficiencies as high as cartridge-style dust collectors, without modifying the baghouse.
Due to the increased media area of a pleated bag, operators may not have to replace every cloth filter bag with a pleated bag during changeouts. Donaldson Torit accessories - tubesheet hole plugs - will seal off the unused holes in the baghouse tubesheet, reducing cost and labor on future replacement cycles.

Ultra-Web SB pleated filter bags are an extension of Donaldson Torit's Ultra-Web line of nanofiber media technologies for industrial applications. Ultra-Web SB combines the excellent surface-loading and dust release capabilities of Ultra-Web nanofibers with a strong spunbond polyester substrate, to create pleated filter bags with durability, moisture and chemical tolerance, long life, high efficiency, and significantly lower pressure drop for energy efficient operation when compared to traditional felt or other pleated spunbond filter bags.

For further information or a detailed brochure about the new Donaldson Torit Ultra-Web SB pleated filter bags e-mail us at e-filter@mail.donaldson.com or call us at 800-365-131.

For information about Donaldson's patented Ultra-Web nanofiber media technology, visit www.ultrawebisalwaysbetter.com.
---