Modular Custom Programmable Welding systems
Product Announcement from Nelson Fastener Systems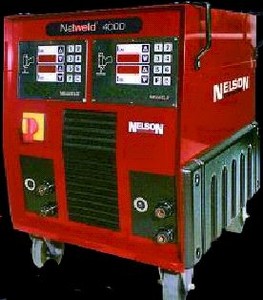 The Nelweld microprocessor-based welding systems from Nelson Stud Welding are more reliable, repeatable and a proven alternative to conventional solidstate systems. And...because the Nelweld systems are based on a modular design, customers can select just the right amount of features and benefits that serve their needs.
Future upgrades can also be handled efficiently through available add on modules and for the most demanding applications, Nelson engineers can provide a customized software solution, not available anywhere else, which can be downloaded into a customer power source through an RS232 interface port. Since each Nelweld system can be custom tailored to any application, customers do not need to pay for unwanted features, or struggle with a system that does not quite have the performance features required.
Another major feature of the Nelweld products is a unique operator interface. Using simple push buttons, the operator can enter weld parameters for different studs and application conditions. These weld parameters can be stored in memory and recalled with the push of a single button in as many as 6 different presets.
Other Features & Benefits:
Fully closed loop, Regulated Current Control - ensures that the proper weld energy is delivered to weld, despite the effects of cable heating, variation incoming primary power, or cable length change.
Innovative and patented gun circuitry - provides for a cooler operating gun, reducing gun maintenance and improving operator comfort.
Patented two-wire gun control circuitry - mini-mizes downtime normally associated with 3 & 4 wire connector failures, and is more tolerant to wet weather conditions.
New weld cable connectors - have the highest temperature rating available in the industry, which minimizes cable heating.
Patented operator interface, and, Micro-processor based system as described above.
Thermostatically controlled fan - provides on demand cooling, reduced noise, minimum ingestion of dirt and contaminates, and reduced energy costs.
Modular design - allows the customer to upgrade the unit to meet changing conditions instead of purchasing a replacement unit.
Built-in diagnostics - continually self monitor all functions and will display an error code if any portion of the system performance deviates from design specifications. This will assist the operator in determining and correcting the problem.
Functional handles - located at the top four corners of the chassis provide assistance when moving a wheel mounted unit, or serve as lifting points for a hoist.
Resettable user Weld Counter - keeps track of the number of welds in a given production period, and another System Counter records the system's life time welds for warranty purposes.
Weld Settings Chart - is attached to the front of every unit to assist the operator in the initial weld setup.
All systems operate on 3 Phase AC current - for a smoother, more stable weld arc, and, most systems have multi-voltage transformer taps for greater versatility.
Other well known Nelson innovations - that are standard on the Nelweld family of units include:
Weld Thru Deck (N 6000 only)
Chuck Saver
Stud Save
Thermal Protection / Thermal Shutdown
Lift Check
Infinitely Adjustable Time & Current
Short Cycle Welding Mode
Stud Stripper
So how good are our power units you ask? Nelson backs up their units with a 2 year, or 1,000,000 welds warranty, which ever comes first. This is unprecedented in the stud welding industry, and punctuates our commitment to deliver the very best value to our customers.
So contact Nelson today to discuss your specific welding application needs!
---