Military Displays and Optical Systems
Service Detail from Dontech Incorporated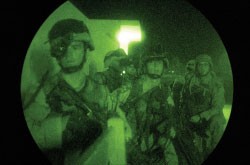 Military and government display systems and components are core competencies at Dontech, and this includes ground-, aircraft-, and ship-based display and precision optics systems. To meet demanding military applications, Dontech designs and builds a variety of optical products including:
EMI/RFI shielding filters, enclosures, and optical assemblies
Transparent heater assemblies
Impact-resistant glass with anti-reflective and conductive coatings
Filters for night-vision compatibility
Optics such as heated laser, sensor and camera windows for visible, IR, NIR applications
Dontech's products are incorporated into rugged laptop computers, mobile communication devices, military GPS systems, vehicle displays, targeting and sensor systems, and LED arrays for improved EMI/RFI shielding, environmental and optical performance. Our customers range from large government prime contractors to OEMs to government agencies. Display sizes range from micro-displays to >64 in. diagonal displays
To meet the EMI/RFI attenuation requirements of MIL-461 (RE101 and RE102), Dontech manufactures optical filters and display assemblies with fine wire mesh or low resistance (<5 ohms/sq.) transparent conductive coatings. Additionally, we can incorporate band rejection coatings to reflect near infrared (NIR) and infrared (IR) radiation for NVIS (per MIL-3009) and transparent heaters or heat reflectors for thermal management applications.
---