Enhanced Touch Screens Meet Demands
Product Announcement from Dontech Incorporated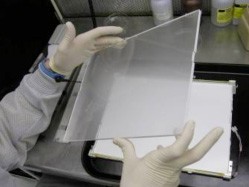 Dontech expertise provides custom touch screen solutions for demanding military, avionic, medical, and industrial applications including:
• EMI/RFI Shielding via transparent conductive coatings and fine conductive grids (MEM100 and plated woven meshes)
• Expanded thermal range via Therma Klear™ transparent heaters for low temperature operations
• IR blocking filters to reduce thermal loading
• Contrast enhancement (to improve sunlight readability) via AR, AG coatings and polarizers and optical bonding
• Improved impact, shock and vibration via the addition chemically strengthened glass, AR glass front surface and optical bonding (IMO-bond™)
Surface Acoustic Wave - SAW uses ultrasonic waves that register where the touch is located. As a portion of the wave is absorbed, it sends a signal to the controller. Because it requires very low activation pressure, a SAW touch screen can be susceptible to surface contamination or damage.
• Projective Capacitive Touch Screens - PCT is becoming increasingly popular due to its very high resolution. Projective capacitive technology relies on a capacitance change that occurs when touching near or on the sensor surface. A conductive grid is patterned on the glass surface and forms an XY array. Applying voltage to the array creates a grid of capacitors. The array is connected to a controller that converts analog to digital signals and locates the exact contact point. PCT's excellent resolution enables multi-touch applications.
• Infrared Touch Screens - operate using an array of infrared light emitting diodes (LEDs) and photo sensors to locate X and Y coordinates. The touch location is identified by the interruption of the IR beam. IR touch screens provide very good optical clarity and can accommodate very large displays. Resolution is dependent on spacing of the IR sensors; false activation can occur due to surface contamination. High ambient light that produces IR radiation may reduce the sensitivity of the IR sensors and, therefore, touch screen functionality.
• Optical Imaging Touch Screens - a relatively new technology that uses optical sensors on the corners of the touch screen and infrared backlights to create a two-dimensional field. Touches are detected as shadows, and interpolation occurs to pinpoint the location of the field disruption. OI technology is scalable to large display sizes.
---