Feedthroughs Ideal for Alternative Energy
Product Announcement from Douglas Electrical Components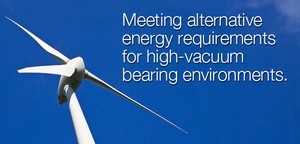 Douglas Electrical's feedthroughs provide a required technology enabler in many alternative energy applications -- wind turbines, in particular. Our feedthroughs are used in wind turbines rotating on magnetic bearings and these same wind farms employing SF6 gas-filled switchgear use Douglas feedthroughs to get their power to the grid.
Flywheel Energy Solutions depend on our seals to get both power and control signals in and out of the high vacuum environment required by their magnetic bearing technology.
Wave and tidal power systems also rely on Douglas feedthroughs to seal critical electronic circuitry, keeping seawater out while allowing power to flow.
Finally, photovoltaic (PV) panel manufacturing requires Douglas feedthroughs for vacuum deposition.
Douglas has a reputation of working with our customers to provide custom engineered solutions to solve specific sealing challenges, with innovation after innovation resulting from our responses to customer design challenges. We have capabilities for size and quantity and have produced one-of-a-kind special assemblies that weigh 2,000 pounds and have produced production lot sizes to 250,000+ pieces per year.
---