Ribbon Filament Transducer
Featured Product from Dover Flexo Electronics, Inc.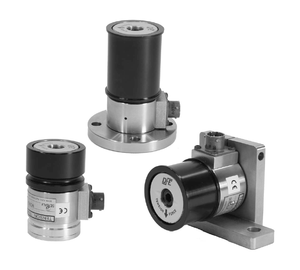 Ribbon Filament Transducer
The RFA Ribbon Filament Transducers are designed to measure tension in any moving ribbon, filament, or very narrow web. Ideal for wire, plastic, rubber, metal, glass, composite or other flexible substrate.
Tension Transducers Capabilities
Measure tension of any narrow ribbon or filament
Small, versatile and easy-to-install
Special wheels are available
Load Ratings from 10 - 150 lbs (45 - 665N) with wide operating range
Ideal for wire, plastic, rubber, metal, glass, composite or other flexible substrate. Three standard wheels available--one for ribbon (specify width), one for filament, or the adapter model for custom requirements. Three mounting styles available: "S" (standard), "FL" (flange), and "PB" (pillow block).
HOW IT WORKS
Tension is measured by high performance strain gages embedded on a dual cantilevered beam and connected in a full wheatstone bridge configuration. As the ribbon or filament passes over a rotating wheel assembly coupled to the end of the transducer, the beam deflects slightly in response to tension. This produces a voltage signal proportional to tension. The RFA transducer mounts cantilevered to a machine frame and may be connected to an indicator or controller for display or automatic control of web tension.
Three standard wheels are available: one for ribbon, one for filament, and an adapter wheel for custom requirements. The three mounting styles available are single bolt, flange, and pillow block.
FEATURES
Small enough to meet tight space requirements.
Versatile and easy-to-install.
Wheel face lengths to 4" maximum.
High performance design and materials for long life in any web or filament application.
Load Ratings from 10 - 150 lbs (45 - 667N) with wide operating range.
Watch>>>Dover Flexo Electronics - Leaders in Web Tension Control and Measurement Technology
About DFE
DFE is the natural choice of process and maintenance engineers for upgrading existing machinery with modern, efficient tension control. OEMs and machinery builders choose DFE to incorporate the most reliable, cost-effective tension controls into their machine designs. Consistent quality, product reliability and superior technical support translate into low cost of ownership for all our customers.
Download our new Tension Equipment Product Guide
Request a FREE Evaluation of Your Tension Application
Are you measuring process tension on web or flexible substrate?
Need help selecting equipment for your application?
Our products are used in unwind, rewind, and intermediate applications for any moving continuous material which undergoes an operation such as printing, coating, laminating, treating, metallizing, rewinding, unwinding, slitting, coating or other processes. Tension measurement and control systems for flexible packaging and paper, film and foil converting are our specialty.
We have over 84,000 tension transducers installed in manufacturing facilities everywhere. DFE transducers (sometimes referred to as 'load cells') are the industry standard for direct tension sensing and measurement. We are a recognized leader in tension technology.
Get an overview of closed-loop web tension control
Sign-up to receive the latest Tension Zone e-news update (6x per year)
Download our new Tension Equipment Product Guide
Web Tension Control & Tension Technology