Energy Savings in High Performance Polyurethanes
Product Announcement from Dow Polyurethanes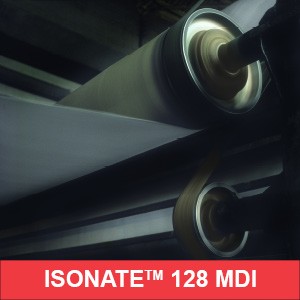 ISONATE™ 128 Modified MDI for Energy Savings and Productivity Improvement in High Performance Polyurethanes
ISONATE™ 128 Modified MDI is a stable, liquid, two-functional isocyanate that offers energy and cost savings, as well as easier handling for the elastomer and industrial polyurethane markets.
Dow designed ISONATE™ 128 to balance the need for ease of processing without sacrificing excellent mechanical properties in end-use applications. It can be shipped and stored using less energy than its counterpart, ISONATE™ 125M Pure MDI, and it enables market growth by allowing new players to enter the market with low capital.
ISONATE™ 128 offers superior handling, and with optimal storage conditions between 80 and 95 °F (27-35 °C), it also provides stability in storage. It is ideal for use in commercial printing (top of the hammer), as well as consumer use in items such as rollerblade wheels.
Benefits of ISONATE™ 128 Modified MDI include:
-- Energy savings and less production downtime since there is no need to melt
material in a broader temperature range
-- Easier handling and processing
-- Longer usage period throughout the year
-- Excellent mechanical properties of obtained polyurethane elastomers
---