Corrugator Lubricants
Product Announcement from Krytox™ Performance Lubricants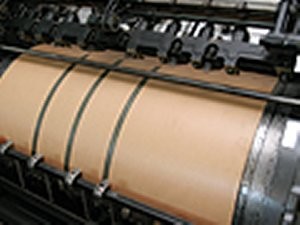 DuPont™ Krytox® performance lubricants have become the corrugator industry standard for lubricating bearings on heated rolls in single facers and associated equipment. We have built on that history of innovation with our CorrSurface Protect coatings and our range of food-grade approved products. Krytox® performance lubricants provide multifaceted investment protection such as:
Proven success in the industry -- DuPont developed the lubrication standard for the paperboard manufacturing industry. With world-class technical service and research, we have more than 20 years of proven success.
Less downtime and more productivity -- reduces breakdowns related to bearings and high costs to repair or replace damaged bearings, corrugator rolls, journals, or flutes.
Reduced maintenance and cleanup -- performs from roll change to roll change no matter how long the interval. Will not carbonize on roll bearings, housings, or machinery, so disassembly and cleanup time are reduced. Extends intervals between relubrication: every 2 to 3 months instead of every week!
Reduced safety and environmental problems -- not only can Krytox® help reduce slipping hazards and spillage on product, but it also reduces solid waste and contamination of wastewater, thereby reducing the costs and potential impact on the environment.
With 200 years of trusted DuPont experience, Krytox® performance lubricants have been developed to provide the best protection for bearings in high-temperature service up to 343°C (650°F). Krytox® fluorinated lubricants are based on DuPont-patented fluoropolymer technology. It starts with high-quality perfluoropolyether (PFPE) oil, augmented with DuPont's best-quality polytetrafluoroethylene (PTFE) thickener to give you a lubricant that provides uniform film-to-bearing surfaces. The result: decreased wear and decreased bearing failure.
Don't take chances with other lubricants.
DuPont™ Krytox® performance lubricants give you the best value while exhibiting these other benefits:
Available worldwide
Environmentally safe and trusted
Chemically inert
ISO-9002 certified
Long-term wear resistance
Protection from rust and high-temperature corrosion
No carbonization
Superior lubricity
Compatible with most metals, elastomers, and plastics
Thermally stable over a wide range of temperatures
Water, steam, and chemical resistance in severe environments
World-class technical service
Literature
New CorrSurface Protect offerings literature
Please click on the links for more information or request a quote today!
---