DuPont™ Fluoroguard® Polymer Additives
Product Announcement from Krytox™ Performance Lubricants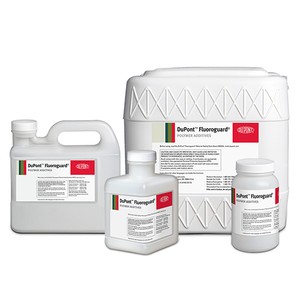 Designed for a variety of uses, DuPont™ Fluoroguard® Polymer Additives provide an internal lubricant that will migrate to the surface to reduce wear and abrasion and to improve polymer throughput and flow properties.
Fluoroguard® is used in a variety of thermoplastic and thermosetting polymers to improve mechanical performance including wear, flex fatigue, coefficient of friction, chemical resistance of the products, and processing characteristics (e.g., melt flow, mold release, die buildup).
Fluoroguard® polymer additives are based on a fluorinated synthetic oil and available in three distinct formulations that are colorless, odorless and chemically inert. Fluoroguard® additives also act as an ingredient lubricant that migrates to the surface, reducing wear and abrasion, as well as improving polymer throughput and flow properties.

Fluoroguard® additives further enhance the performance of molded parts by reducing scratching and marring, as well as improving flex fatigue, resistance and physical properties. Engineers looking to design light, durable parts for low-stress environments at reduced cost increasingly prefer engineered plastics enhanced with Fluoroguard® additives over metal components.
---