DuPont Precidium Floor Coating System
Product Announcement from DuPont Performance Coatings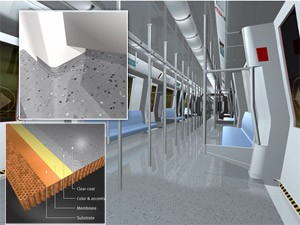 Looks great. Lasts longer. Saves money.
Precidium™ Floor Coating System, exclusively distributed by DuPont, offers transit authorities an advanced floor coating system for trains and buses that is superior to traditional flooring in terms of performance, aesthetics and ease of maintenance.
Precidium™ is a multi-layer sprayed-on coating that can be applied easily to virtually any vertical or horizontal surface, creating a lightweight, seamless and impermeable membrane.
Precidium™ Floor Coating System Brochure

Play DuPont Precidium Floor Coating System Video
---