Current Leakage? Intelligent Detection
Product Announcement from Duncan Instruments Canada, Ltd.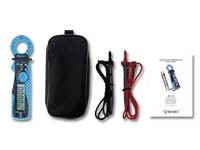 Leakage Clamp TRMS Meter With Power Functions from Duncan Instruments.
MD 9270 Leakage Clamp TRMS Meter With Power Functions
Features:
CSA Approved
TRMS: accurate measurements on sinusoidal and non-sinusoidal signals.
Jaw size: 31 mm.
Shielded Jaw: shielded jaw allows the clamp meter to be used in the noisiest environments.
Accurate: readings of AC current with an accuracy of 0.8 % and a base resolution of 0.01 mA and voltage with an accuracy of 0.5 % and a base resolution of 0.1 V.
Power: measures various power parameters (active, reactive, apparent power, THD, PF, phase displacement).
Intelligent loss analysis: complex algorithms detect loss and allow determining possible reasons for current loss.
Harmonics: measures current or voltage harmonic components and a percentage value of a harmonic up to the 49th.
THD and PF: dual display allows readings to be displayed along with Total Harmonic Distortion (THD) or Power Factor (PF).
Peak value: the peak value of the waveform or crest factor can be displayed.
MAX/MIN/HOLD mode: displays maximum, minimum or average measured value
MD 9270 Standard Set:
Current clamp MD 9270
Test lead with probe
2 pcs 1.5 V battery, type AAA 2 pcs
Pouch
Instruction manual
Duncan Instruments Canada Ltd. has been specializing in electronic measurement solutions since 1968.
Duncan Instruments product selection
Some of our most popular products.
If you cannot find what you are looking for, please contact us with your request.
Repair and calibration SERVICES Every test intrument requires periodic maintenace. Our Service Department consist of a Calibration Laboratory and a fully equipped repair shop. Our experienced personnel with extensive documentation library, in-house spare parts inventory and computerized replacement parts data base will restore your instruments to "as new" condition. Our Calibration Laboratory, located in a dedicated environmentally controlled area, is ISO9001 : 2008 registered. We offer certification service to suit your QMS programme. We can calibrate your instrument in 48 hours if required.
All of this to provide you with top quality, reliable and fast service when you need it.
Why Rent? Pay for what you want & for how long you need it!. Review our list of available rental instruments for which one fits your application:
---