Digital-Delay/Pulse Generator –BNC Model 575
Product Announcement from Duncan Instruments Canada, Ltd.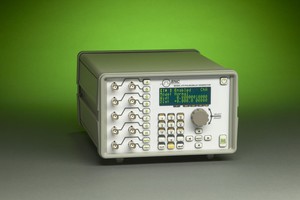 The Model 575 is a multi-channel pulse generator and digital delay generator in
a single bench top instrument. Two instruments can be side-by-side in a single rack mount.
A true pulse generator provides independent control of rate, delay and width with an external trigger. The 575 is the only multi-channel unit to permit differing rates for all the channels.
With the BNC Model 575 there are a wide range of options,such as: adjustable output of either 20 or 35V; optical output of either 820nm or 1300nm; dual trigger output; and GPIB and Ethernet communications. For those needing the popular RS232 and USB communications package, this is standard with either of the two, four or eight channel models.
Features
250pS delay and width resolution, on all eight channels
50pS channel Jitter/800pS external jitter
Independent clock rates for each channel
Clock In &Clock Out
Programmable (Ethernet) USB/RS232/GPIB
Combine Electrical and Optical Outputs
Typical Applications
Trigger, Gate, Delay, Pulse or Sync experiments or LASERs
Sync to an External Clock
Master/Slave or Multiple Unit Slave: Complex Burst Functions
Duncan Instruments Canada Ltd. has been specializing in electronic measurement solutions since 1968.
Duncan Instruments product selection
Some of our most popular products.
If you cannot find what you are looking for, please contact us with your request.
Repair and calibration SERVICES
Every test intrument requires periodic maintenace. Our Service Department consist of a Calibration Laboratory and a fully equipped repair shop. Our experienced personnel with extensive documentation library, in-house spare parts inventory and computerized replacement parts data base will restore your instruments to "as new" condition. Our Calibration Laboratory, located in a dedicated environmentally controlled area, is ISO9001 : 2008 registered. We offer certification service to suit your QMS programme. We can calibrate your instrument in 48 hours if required.
All of this to provide you with top quality, reliable and fast service when you need it.
Why Rent? Pay for what you want & for how long you need it!. Review our list of available rental instruments for which one fits your application:
---