Duncan's Professional 10KV Insulation Analyzer
Product Announcement from Duncan Instruments Canada, Ltd.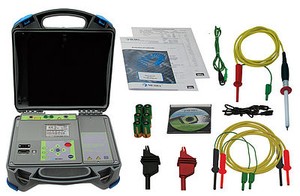 The MI3200 insulation tester has the PI, DD and DAR diagnostic functions, battery and line operation, IP44 rating and is equally at home in the lab and the field.
Optional accessories include Teralink software and RS232 and USB cables.
Insulation resistance up to 10 TOhm
DC Test voltage 500 V - 10 kV in steps of 25 V
The short circuit current is 5 mA
Auto-calibration of measuring system
Operates from mains or rechargeable supply
Automatic discharge of capacitive loads
Digital and bar graph results with date and time
User friendly PC software with RS232 or USB isolated communication port
High quality accessories
High noise immunity
Highest protection degree CAT IV 600V
Duncan Instruments Canada Ltd. has been specializing in electronic measurement solutions since 1968.
Duncan Instruments product selection
Some of our most popular products.
If you cannot find what you are looking for, please contact us with your request.
Repair and calibration SERVICES
Every test intrument requires periodic maintenace. Our Service Department consist of a Calibration Laboratory and a fully equipped repair shop. Our experienced personnel with extensive documentation library, in-house spare parts inventory and computerized replacement parts data base will restore your instruments to "as new" condition. Our Calibration Laboratory, located in a dedicated environmentally controlled area, is ISO9001 : 2008 registered. We offer certification service to suit your QMS programme. We can calibrate your instrument in 48 hours if required.
All of this to provide you with top quality, reliable and fast service when you need it.
Why Rent? Pay for what you want & for how long you need it!. Review our list of available rental instruments for which one fits your application:
---