Quick! 1-sec measurement Ground Resistance Tester
Product Announcement from Duncan Instruments Canada, Ltd.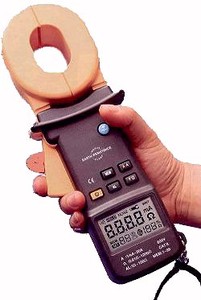 Ground Resistance Tester STERLING MS2301
The Digital Ground Resistance Tester Model 2301 has a multifunction display and performs ground resistance measurement from 0.001 to 1200 ohms without driving ground rods. It is fast (1 second measurement) and accurate (1.5% typical). The Model 2301 has large jaws and has proven to be highly immune to external electric fields.
This ground resistance tester comes complete with carry case, calibration loop and operator manual.
Easy to use
CAT.III 600V, IEC1010 double insulation
Large jaws: 32 x 45 mm
Quick, 1 second measurement
Resistance measurement up to 1200 Ohms
Resolution 0.001 Ohm
Audible alarm with user programmable threshold
Large LCD display with Noise and Open Jaws indicators
Leakage current measurement with 0.1 mA resolution
Operating temperature from -10 deg C
Internal memory for 99 measurements
Hard carry case and three calibration loops included
Duncan Instruments Canada Ltd. has been specializing in electronic measurement solutions since 1968.
Duncan Instruments product selection
Some of our most popular products.
If you cannot find what you are looking for, please contact us with your request.
Repair and calibration SERVICES Every test intrument requires periodic maintenace. Our Service Department consist of a Calibration Laboratory and a fully equipped repair shop. Our experienced personnel with extensive documentation library, in-house spare parts inventory and computerized replacement parts data base will restore your instruments to "as new" condition. Our Calibration Laboratory, located in a dedicated environmentally controlled area, is ISO9001 : 2008 registered. We offer certification service to suit your QMS programme. We can calibrate your instrument in 48 hours if required.
All of this to provide you with top quality, reliable and fast service when you need it.
Why Rent? Pay for what you want & for how long you need it!. Review our list of available rental instruments for which one fits your application:
---