Why Use Automated Ball and Butterfly Valves?
Featured Product from DynaQuip Controls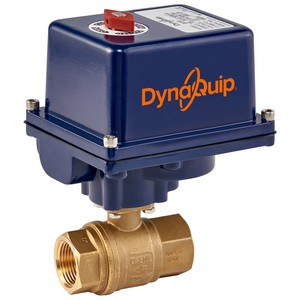 Why Use Automated Ball and Butterfly Valves?
Any piping system with valves which are subject to the following conditions or concerns will be excellent candidates for automated valves.
Safety:
Valves that are in elevated areas and difficult to reach, such as a piping galley or on the side of a tank are concerns for safety. Not just because they may require crawling out on a pipe or some other structure, but climbing outdoor ladders in winter during icy conditions can create hazards and be dangerous.
Valves that are operated on the other side of busy or hazardous thoroughfares from the main plant can have safety concerns. Railroad tracks that divide a plant from the main operations can be a hazard to maintenance personnel.
Hazardous gases that could leak, or any valve that is better operated from a distance due to heat, explosives, or other hazards in the general area are potential applications. Fail-safe spring return actuated valves may help meet safety standards required by law.
Valves that must be cycled regardless of weather conditions such as lightning storms, hail, or high winds.
Valves that can feed combustible materials to a fire or could be used to contain a fire and need to be cycled quickly.
Valves installed underground in manways where hazardous gases can gather unexpectedly.
Any application that could cause harm to personnel simply because of location or hazardous material in the line or area.
Cost of Manpower:
Valves that require frequent or rapid opening and closing are excellent candidates for automation. Often it is difficult to do a manual operation in a timely manner. Due to the difficulty in turning some valves it becomes impossible to keep up with frequent manual operation. These valves should be automated valves.
Valves that must cycle before or after another event has occurred are strong possibilities for automation. These types of systems can easily be automated so that the sequence happens with little or no manual input. Using limit switches or relays allows a whole series of events to occur based on a preceding event.
Remote Locations:
Valves which are some distance away from the operator who must cycle the valve should be automated. Today, automated ball and butterfly valves can be operated hundreds and even thousands of miles away from the control room. Using telephone, radio frequency and other such hard wire and wireless control signals a plant can now get almost instant response from their remote valves.
DynaQuip has many platform style valves with handles to allow for manual operation (and low cost) design now with the ease of upgrading later. Given the cost and downtime associated with piping control valves into a live system, a little foresight now will help to future proof your application.
Electric actuators and valve automation designs lead our drive as we focus on the products of tomorrow
Now entering our seventh decade, DynaQuip Controls Inc. continues its long-standing commitment to designing and manufacturing superior products and providing outstanding personal service. Electric actuators and valve automation designs lead our drive as we focus on the products of tomorrow.
Our products and services reflect the highest standards at DynaQuip, in which design, development, manufacturing and time-tested performance are of the utmost importance. We continue to focus design and development in the area of innovative valve automation and control products that meet or exceed the most demanding needs and expectations of our valued industrial, commercial and residential customers worldwide.
DynaQuip's historical expertise has always been rooted in the design, development and manufacture of durable flow control and fluid connector products for fluid power applications. Today however, our product lines and design expertise have grown to include electric actuators, electronic actuator controls, automated ball valves, automated butterfly valves, pneumatic actuators, manual ball valves and butterfly valves.
With our vision and goals focused on the development of quality ideas and innovative control products, and backed by our caring and personalized DynaQuip service, we are honored to serve the needs of our customers and end users in the manufacturing, oil and gas transmission, food and beverage, fluid power, OEM, semiconductor, light industrial, residential, and commercial markets.
Never losing sight of the need for safety, energy conservation, environmental protection and personal service, we promise to provide for and protect what came before us and what must remain after us. At DynaQuip we look forward to serving you and we believe that... You simply get more when you choose DynaQuip.
Our Vision
Our Vision is to satisfy the individual needs and demands of our industrial, commercial and residential customers by providing innovative and solutions-oriented valve and fluid control products.
Our Mission is achieved through the continuous application of creative ideas, open communications, proven design and manufacturing methodology, and exemplary levels of personalized service and support.
Our Company strives to empower our people to continuously generate quality ideas that lead to products, processes, and services that we believe offer lasting tangible benefits.
Our Business will be conducted with manners that are; socially conscious and responsible, earn respect for our integrity and ethics, and provide clear long-term value to all those we are fortunate to serve.