Award-winning protection from an industry leader.
Featured Product from DynaQuip Controls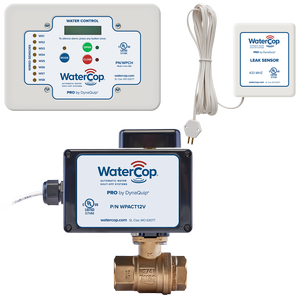 Property damage caused by aging or faulty plumbing and appliances total billions of dollars each year and affects more than 2.5 million property owners. If you think you are immune, think again. What steps are you taking to lessen your risk from this costly and preventable damage?
DynaQuip Controls is the designer and manufacturer of the WaterCop Family of water control solutions. The concept of automated water shutoff is relatively new. DynaQuip has been a leader in flow control to the industrial market for over 75 years but it wasn't until 1999 that we patented our first WaterCop system to specifically address leak detection and provide shutoff to homes and other buildings.
The WaterCop automatic shut-off valve installs on the main water line and WaterCop flood sensors install near water-using appliances and in rooms where running water is present. When leaking water comes in contact with any of the sensors, a wireless signal is immediately broadcast to the WaterCop main valve causing the valve to close. Water flow is quickly cut off to all areas of the home and any continuous flooding is stopped.
We are pleased to announce our most robust system, WaterCopPRO Integrated, has won several awards including ESX 2015 Innovation Award and Best New Product at CEDIA 2015.This system is an all-inclusive solution which includes supervised, wireless or wired leak and temperature sensors with local alarm and local push button control of the water supply. Additionally, the PRO system can integrate seamlessly with your automation panels to provide on-demand open/close as well as monitoring notification.
Key benefits of WaterCop Automatic Water Shut-Off Systems by DynaQuip Controls include added property protection against water damage, potential savings for homeowners through insurance premiums, easy integration with home security and automation systems, comprehensive property protection, promotes water conservation, and offers peace of mind for property owners. WaterCop is available in Classic, PRO Integrated, Z-Wave, Commercial, Outdoor and Dual models.
WaterCop Classic is perfect for single-family or vacation homes of modest size. Simple and easy to use, WaterCop Classic provides homeowners a thorough level of flood protection. WaterCopPRO Integrated is preferred for custom-built or expansive homes, multi-family, condominium and/or commercial use. Its valuable features include an improved user interface and flexible installation options. WaterCop Z-Wave integrates into the Z-Wave speaking home. WaterCop can protect commercial buildings with pipe sizes up to 36" with Large Valve Integration. It combines WaterCop RF technology with our DynaMatic industrial actuators.
The WaterCop Family of Products provides round-the-clock indoor flood protection. With the many versions available, there really is a WaterCop solution for almost every unique application.