WaterCop® Automatic Water Shutoff
Featured Product from DynaQuip Controls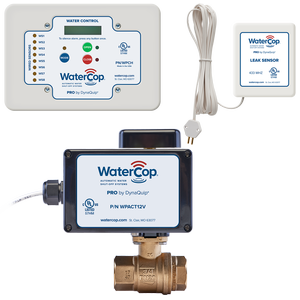 Building on decades of innovation, DynaQuip Controls proudly offers the WaterCop® family of industrial and residential shut off products. From basic on/off to detailed monitoring and feedback, WaterCop offers a solution for your specific application
Industrial:
WaterCop by DynaQuip light duty actuated ball valves provide excellent and flexible shutoff options at an attractive value. Suitable for up to 125 psid CWP WOG applications, these NEMA 4 assemblies have multiple options including voltage, feedback, manual override, and NSF/ANSI 372 Lead Free brass.
Residential, Multi-family, Office, Light Commercial:
WaterCop automatic water shutoff systems provide your home or building with round-the-clock indoor flood protection. This constantly expanding product family offers single point shut-off, multi-point whole house leak detection using wired and wireless flood sensors, central control wall switches, informative Control Panels, instant low voltage compatibility with most home security or home automation systems and Z-Wave protocol capabilities.
Watch>>>Manufacturer of:Automated Valves,Actuators,Ball and Butterfly Valves
Electric actuators and valve automation designs lead our drive as we focus on the products of tomorrow.
Now entering our seventh decade, DynaQuip Controls Corporation continues its long standing commitment to designing and manufacturing superior products and providing outstanding personal service. We continue to focus design and development in the area of innovative valve automation and control products that meet or exceed the most demanding needs and expectations of our valued industrial, commercial and residential customers worldwide. Our product lines and design expertise include electric actuators, electronic actuator controls, automated ball valves, automated butterfly valves, pneumatic actuators, manual ball valves and butterfly valves. With our vision and goals focused on the development of quality ideas and innovative control products, and backed by our caring and personalized DynaQuip service, we are honored to serve the needs of our customers and end users in the manufacturing, oil and gas transmission, food and beverage, fluid power, OEM, semiconductor, light industrial, residential, and commercial markets. Never losing sight of the need for safety, energy conservation, environmental protection and personal service, we promise to provide for and protect what came before us and what must remain after us. At DynaQuip we look forward to serving you and we believe that... You simply get more when you choose DynaQuip.