Power Grid Resiliency - New Patented Technology
Featured Product from Dynapower Corporation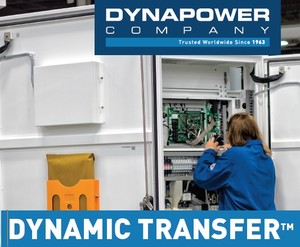 Dynamic Transfer technology enables grid resiliency for utility and commercial & industrial customers. The patented technology enables the seamless transition of an energy storage system with a Dynapower inverter from grid-tied to backup battery power in the event of a grid disturbance.
For 480 VAC class grid-connected energy storage applications, Dynapower offers the MPS-250 600V, a 250 kW inverter from the Micro Power Systems™ (MPS) family of behind the meter, four-quadrant, energy storage inverters.
Dynapower's flexible and modular MPS-250 600V optimizes the transfer of energy between a DC energy storage system and a three-phase grid. The MPS provides power conditioning (voltage and frequency support), VAR support, and Standby UPS capabilities for intermittent loads and renewable generation. Systems are available in indoor and outdoor configurations. Multiple units can be paralleled in grid forming mode for microgrid applications.
The MPS-250 600V integrates controls and a full complement of switchgear and protection including an AC circuit breaker, AC contactors, AC and DC fusing, DC load break contactors, and a DC manual isolation switch into a single, heavy duty industrial enclosure. This offers end users and energy storage integrators a cost advantage when compared to non-integrated systems that require additional add-on protection.
ENERGY STORAGE APPLICATIONS
Visit our website to Access a White Paper on the technology