Cylinder Protection in Coal Power Plant
Featured Product from Dynatect Manufacturing, Inc.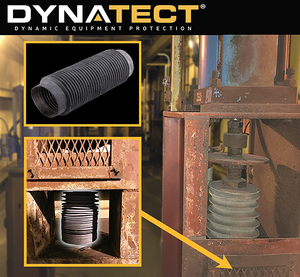 Dynatect solutions for coal-fired energy generation plants - These power plants include a bag house that manages fugitive dust emissions (including fly ash) via dampers. Those dampers move via long cylinders (often 12" in diameter). Those cylinders are protected from fly ash and related gases by Dynatect bellows, and are typically replaced annually as part of standard maintenance. Dynatect Gortiflex bellows are designed to reduce cylinders cleaning/maintenance and feature a nylon layer over 0.060" thick CSM material for superior resistance to abrasives, dust and light particles. The bellows have internal wires to maintain the bellows shape under 1-1.5 PSI vacuum pressure. Typical bellows lengths are 2-4' long.