Small, lightweight, metal cable carriers
Featured Product from Dynatect Manufacturing, Inc.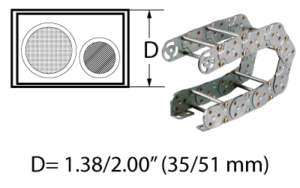 SB/SC Series
The SB/SC series is a line of small, lightweight, metal cable carriers. They are ideal mobile construction equipment, machine tools, and medium duty industrial applications.
Unlimited cavity width flexibility - inside width is customer-specified
Inner Height: 0.62″ to 1.38″ (16 to 35 mm)
Made of steel links with round aluminum crossbars
Superior unsupported spans vs. plastic carriers
Gortrac® Metal Cable & Hose Carriers
Gortrac® Steel - Superior Strength-to-Weight Ratios, Load-Bearing, and Maximum Unsupported Spans
Maximum Strength, Modest Price - The GX and MA Series are designed to compete against similarly sized plastic carriers and yet offer longer unsupported spans. The GX Series is available in 5 standard widths and the MA Series is available in 2 standard widths. Both Series have a link height of 2.00" (51mm) and curve heights from 6.00 - 13.25" (152 - 337mm). The MA has streamlined inside window with some details eliminated or moved to outside of link.
Pick-Your-Width Flexibility: The following Series allow complete flexibility as to the crossbar width: SB, SC, MRC, SX, SRC, LRC, XL, and XX
Designs that Dispatch Debris - The SA, MA, and SX Series have open, self-cleaning link designs that expel dirt and debris during equipment cycles.
Enclosed-Style Links - The SRC, LRC and XL6 models have a bolt-on armor plate lid option to protect cables/hoses from heavy abrasive and hot chip loads
The Best Unsupported Spans in the Industry - Dynatect's unique patented link designs achieve weight reductions without compromising strength, reduce parts, and simplify construction.?The SA, GX, and MA Series have a 3-sided, single-piece link design with integral flat bars for surprising strength-to-weight ratio: SA, MX, MA.
Reduced weight in open-style SRC and LRC carriers has been achieved by eliminating non-essential center portions of the link.
Heavy Package? Heavy Duty? - For the most demanding applications or heaviest cable/hose packages, the Gortrac SRC, LRC, XL Series have the greatest strength and load-bearing capability. Beyond the standard sizes listed, the XL Series is available in custom bend radii and link heights.
Corrosion-Resistance: Manufactured from plated or stainless steel, Dynatect's zinc dichromate plating process offers 70% better corrosion resistance than standard zinc plating
Dynatect
Dynatect (formerly A&A Manufacturing) delivers custom motion and protection for machines with deep application knowledge, diverse product offering, and a customer responsive sales philosophy. Dynatect provides engineering and manufacturing for custom applications which improve human-machine safety and machine uptime. We continue to build our customer experience through improving service differentiation, expanding product portfolio, and reducing lead times.
DYNAMIC PROTECTION = DYNATECT
The name comes from the words 'dynamic' and 'protection' because it is the accumulation of over 70 years of experience producing flexible protection for equipment in motion.
Dynatect Advantages & Capabilities
Why Dynatect?
Broad network of 50+ local factory-trained representatives offer onsite support, technical advice and recommendations
Speak directly to application specialists to receive upfront design assistance
Fast delivery of customized products, from concept to application
We will design and manufacture a turnkey engineered assembly (and one-time projects are not a problem!)
Access to new solutions for your industry, thanks to our active product research and development programs
Access to a broad range of materials including metal, engineered plastics, elastomers, and over 120 specialty textiles
Dynatect has the largest portfolio of protective covers, and is the only North American manufacturer of both plastic and metallic cable carriers
We can meet your needs from standard offerings to custom-engineered products configured around your application
Regular repeat orders? Dynatect has kanban and JIT programs to ensure reliable delivery with minimal inventory
Manufacturing
Laser and waterjet cutting
Horizontal and vertical machining
Precision grinding
Precision bending
Thermoset extruding
Automotive-grade painting
Welding (metal and thermoplastics)
Sewing
Spring winding
Assembly and finishing (buffing, painting, plating)
Custom molding of plastics (injection, compression, transfer, RIM, hot cast)
Ball screw and metal way cover repair and refurbishment
Design and Engineering
2D and 3D design from engineering, to approval, to manufacturing
Automated CAD-to-CAM processes
R&D, design, and reverse engineering
Leading-edge testing capabilities
Free web conferencing service to quickly assemble a design team to facilitate engineered solutions