Toothed-Jaw Slip Clutches
Featured Product from Dynatect Manufacturing, Inc.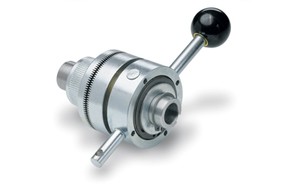 Polyclutch® Jaw Type Clutches permit extremely simple, reliable phase adjustment, and/or engage-release between a shaft and gear, pulley, roller, etc. The D Series is knob operated, the J Series is lever operated.
Clutch teeth are precision machined from solid steel blanks, 3 degree tooth spacing (120 teeth) is standard. Alternate spacings available. All Polyclutch jaw clutches are stronger than the shaft driving it.