PolyClean Fluidized Baths
Service Detail from Dynisco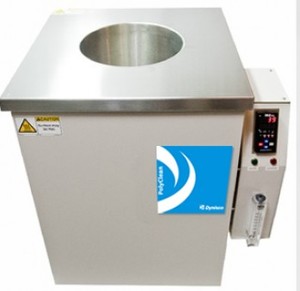 Dynisco PolyClean Fluidized Baths provide a cost effective, fast, and safe way to clean a variety of components used in a plastic processing facility. Offered in 2 sizes, they are designed to be used in any polymer production or laboratory facility that requires cleaning of components with minimal operator interface without damaging critical design specifications of the part.
The PolyClean Fluidized Temperature Baths are designed for the following applications:
PolyClean Model 6L: The PolyClean 6L Fluidized Temperature Bath can be used to clean small tooling from Laboratory Extruders or Injection molding machines, Capillary Rheometer and Melt Flow Indexer dies or other small components used in polymer testing or small part production.
PolyClean Model 12L: The PolyClean 12L Fluidized Temperature Bath can be used to clean tooling from all extrusion, injection molding, blow molding, and laboratory applications. Its 12L deep basket is designed to handle a large variety of components from laboratory as well as production environments. The 12L can also be configured with its sensor support tray allowing (2) pressure sensors to be cleaned at a single time.