Miniature Triaxial Accelerometers, 3263A Series
Product Announcement from Dytran Instruments, Inc.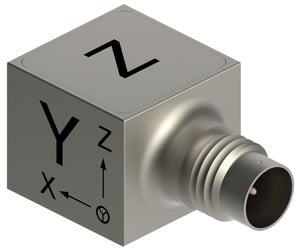 The Dytran 3263A series is a family of low-noise, miniature IEPE triaxial accelerometers using the latest in ceramic shear technology. This series features a single, transverse mounted, 4-pin electrical connector which allows the 3263A to be used in
situations where vertical space is limited.
Download the specification sheet for the 3263A series.
Dytran's robust 3263A accelerometer is miniature (0.48"L x 0.48"W x 0.44" H), allowing for a small footprint which does not interfere with testing conditions and is housed in titanium metal for long-term durability. Available in three sensitivities of 10, 50 and 100 mV/g, design of the Dytran 3263A series features ceramic shear sensing elements, coupled with low noise electronics. The accelerometers offer a broad frequency response with a 4-pin radial connector and 4-40 thread for stud mounting. Units are hermetically sealed for reliable operation in harsh and dirty environments.
Optional Transducer Electronic Data Sheet (TEDS; per IEEE 1451.4) capabilities are also available for larger channel count applications (3263AT series).
Click here to visit the 3263A series on the Dytran website.
Features:
5.6 grams
Titanium
Hermetic
Triaxial
Low noise
Lightweight
High Sensitivity
Optional TEDS capabilities
IEPE
Applications:
Modal and structural analysis
Noise, Vibration and Harshness (NVH)
Squeak & Rattle
Vibration control
General purpose triaxial vibration measurements
About Dytran Instruments, Inc.
Founded in 1980, Dytran Instruments designs and manufactures a full line of piezoelectric and DC MEMS sensors for measurement and monitoring. The company's world class product range includes miniature and triaxial accelerometer models, high temperature sensors with built-in electronics (IEPE), variable capacitance DC sensors with low-noise differential output, and sensors with TEDS capabilities. Dytran also offers a complete range of piezoelectric force and pressure sensors, impulse hammers, support electronics, cables and accessories for dynamic measurements, with full in-house customization capabilities. Since their founding, Dytran sensors have become the industry's most popular choices within a variety of applications, including modal and structural analysis; flight test; HALT/HASS/ESS; Health and Usage Monitoring Systems (HUMS); mechanical impact testing; product testing; vehicle dynamics; and space related applications. The team at Dytran prides itself on its high level of custom responsiveness, as well as its focus on developing and maintaining strong customer relationships. The "people factor" is what continues to make Dytran a success. To learn more, visit http://www.dytran.com.
---