3023B17T Electrically Filtered Triaxial Accel
Featured Product from Dytran Instruments, Inc.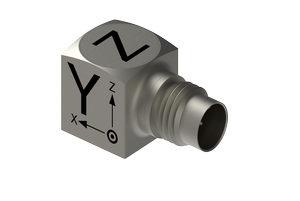 The Dytran Series 3023 are miniature triaxial IEPE accelerometer available in TEDS and high temperature variations. Sensitivities include 1mV/g, 5mV/g and 10mV/g.
Series 3023 features an industry standard 4-pin radial connector and is available with adhesive or stud mount options. Design of the Dytran series 3023 incorporates three quartz shear sensing elements, packaged in a laser welded titanium housing. Units are hermetically sealed for reliable operation in high humidity and dirty environments.
Features:
Titanium
Hermetic
Lightweight (4 grams)
Triaxial
TEDS Feature
High Temp
IEPE
10 mV/g sensitivity
One pole Low-Pass 16kHz Electrical Filter
Applications:
Environmental Stress Screening (ESS)
NVH Studies
HALT/HASS
General purpose triaxial vibration measurements