3086 series Shock Accelerometer
Featured Product from Dytran Instruments, Inc.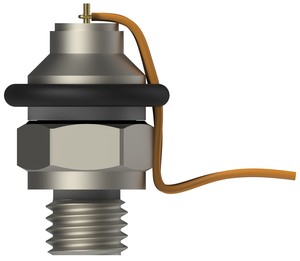 The Dytran series 3086 is a highly rugged IEPE accelerometer with a very high natural frequency available in multiple frequency ranges. This miniature size accelerometer is designed to measure severe shocks and other extreme short duration events. High shock measurement requirements are typically characterized as such above 2,500g's. In order to accurately measure shock levels of this magnitude, accelerometers must have a high natural frequency, rugged construction and be fairly compact in size.
The Dytran series 3086 features a quartz crystal sensing element, operating in compression mode, housed in a hermetically sealed lightweight titanium housing, for a total weight of just 3.5 grams. Units are electrically base isolated and feature axial mounted solder pins for cable connection. This particular connector style aims to eliminate discontinuities during high g events and reduces connector stresses. The unique mounting configuration of the Dytran series 3086A allows for use of a field replaceable cable assembly (sold separately).
Features:
Titanium
Hermetic
Base isolated
Lightweight
High natural frequency
IEPE
Applications:
Drop testing
Far field blast testing
Pyrotechnic testing
shock testing