Triaxial MEMS Sensor with High-Frequency Response
Featured Product from Dytran Instruments, Inc.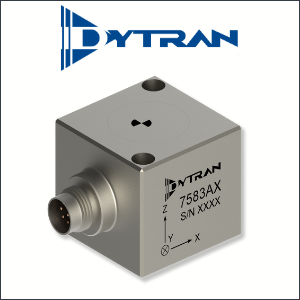 The Dytran 7583A series provides VC–MEMS triaxial measurements in a rugged hermetically sealed package. This high–performance triaxial variable capacitance (VC) accelerometer is offered in multiple ranges to cover your acceleration measurement needs. It features outstanding thermal stability due to superior temperature compensation design and extended frequency response.
This accelerometer module combines three integrated VC accelerometer chips with high drive, low impedance buffering for measuring acceleration in commercial and industrial environments. Tailored for zero−to−medium frequency applications that require extended frequency ranges, from 0 to 7,000 Hz. The hermetically sealed titanium case has an integral 5/16–32 9–pin receptacle and is easily mounted via two .18 diameter thru-holes. Units are hermetically sealed for reliable operation in high humidity and dirty environments.
Features:
Offered in various ranges including ±2g, ±5g, ±10g, ±30g, ±50g, ±100g,

±200g

Hermetic seal

High shock survivability

Extended frequency response

Differential output

Operates from +6 to +14 VDC

MEMS technology

VC response
Applications:
Road load testing

Flight Test

In–flight vibration testing

Flutter testing

Low frequency aircraft/airframe vibration measurements

Structural dynamics
More Information: