3225 Series Mini Accelerometer
Featured Product from Dytran Instruments, Inc.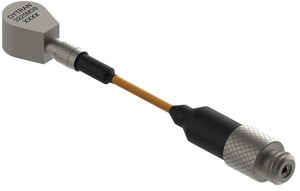 The Dytran series 3225 is a miniature IEPE accelerometer with sensitivities ranging from 1-100 mV/g, designed to adhesively mount in spaces typically inaccessible to other types of accelerometers. The series includes TEDS, Charge mode, low outgassing, tear drop design, ultra miniature, triaxial, adhesive mount assemblies, integral cable assemblies, and high temperature options.
Featuring a quartz shear sensing element in a lightweight titanium housing, series 3225 is uniquely capable of operation in high vaccuum vibration levels typically found in space related applications.
Features:
Titanium
Miniature and ultra miniature tear drop designs
High temp options
Low outgassing options
TEDS options
Charge mode options
Applications:
Environmental Stress Screening (ESS)
General purpose vibration measurements where space is at a premium
mechanical shock
PC board vibration measurements
Product response testing
Space related applications
Thermal vacuum vibration testing