NEW! 200° C IEPE Sensor
Featured Product from Dytran Instruments, Inc.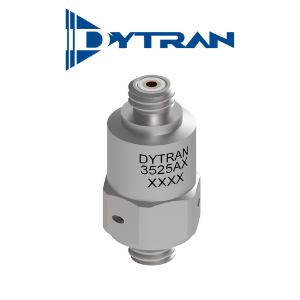 Uniquely designed internal electronics allow you to measure shock and vibration in high-temperature applications without the need for external charge amplifiers; thus, reducing the cost and complexity of your high-temp testing. We have tested 3525A3 sensor lots at 200° C for 1500+ continuous hours in a thermal HALT/HASS chamber as part of the successful qualification.
This model utilizes an inverted quartz sensing element to minimize the unwanted effects of base strain on the accelerometer signal. In addition, the use of quartz provides long term thermal stability and a low thermal coefficient of sensitivity, in other words, there is very little change in sensitivity when the sensor goes from room temperature to 200°C.
The small, low mass, hermetically-sealed, stainless steel housing makes it ideal for use in locations inaccessible to larger high temperature accelerometers. Typical uses for model 3525A3 include the following applications; downhole oil industry, environmental test chambers, HALT/HASS chambers for control, automotive applications including engine and exhaust hot zones, as well as for any general purpose high temperature IEPE applications.
Available with a sensitivity of 10 mV/g and a 5 to 10,000 Hz frequency range (±5%). Model 3525A3 features a top mounted 10-32 micro coaxial connector and is installed using an integral 10-32 mounting stud.
Features:
10–32 axial connector
6.8 grams
Stainless steel
Hermetic
+392°F (+200°C) operation
IEPE
Applications:
Downhole oil industry
Environmental Stress Screening (ESS)
HALT/HASS
Automotive engine hot zones
Automotive exhaust hot zones
General purpose high temperature IEPE applications