NEW Mechanically & Electrically Filtered Sensor
Featured Product from Dytran Instruments, Inc.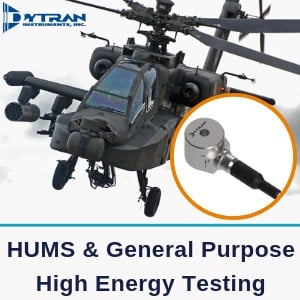 This innovative sensor is a single-axis IEPE quartz accelerometer with a thru-hole design for 360-degree cable orientation. Model 3168D2 features mechanical and electrical filters that effectively eliminate ultra-high frequency energy that can cause signal saturation (common in high-speed gearbox applications). The filters also act as a barrier to "zero shift" phenomena in the data by protecting the sensing element from high amplitude, high-frequency mechanical impacts. In addition, the filters suppress the natural frequency of the sensor to assure correct "in-band" vibration measurements during all test applications. The sensing element is internally isolated from the outer case to prevent ground loops and is enclosed by a Faraday shield that prevents EMI/RFI interference.
Features:
Mechanically and electrically filtered
Stainless steel, hermetically sealed
Case isolated
Hermetic360° cable orientation
High frequency response
IEPE



Applications:
High frequency aircraft
Airframe vibration measurements
Health and Usage Monitoring Systems (HUMS)
Transmission vibration measurements
General-purpose, high energy applications where signal saturation, shock overload and zero shift are potentially affecting signal integrity