Plug-and-Play 6DoF Vibration Sensor
Featured Product from Dytran Instruments, Inc.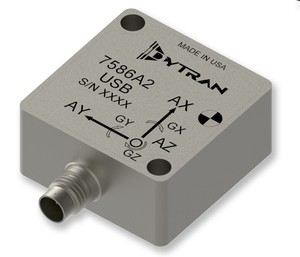 The VibraScout™ 6DoF is an innovative, cost-effective, plug-and-play, portable data acquisition system. It contains an 8-pole elliptical anti-aliasing filter and measures X, Y, Z acceleration, as well as roll, pitch, yaw. This complete data acquisition system eliminates the hassle of having to use a separate data acquisition system, power supply and other ancillary equipment.
VibraScout™ 6DoF can plot recorded data, zoom and select a specific timeframe of recorded data for post-processing, reproduce interpolated oversampled data to provide better resolution of vibration signals, export multiple file types including time data, FFT, PSD and CPB in CSV, JPG, UFF58, and MAT LAB formats. An Application Programming Interface (API) is available for customers who would like to build custom applications for the VibraScout™ 6DoF. The API provides support for any .NET-compatible client application. Custom application development is also available.
The variable capacitance (VC) triaxial accelerometer and gyroscopes are protected inside a small, hermetically sealed titanium housing weighing 25 grams making it ideal for use in harsh environments. The frequency range of the VibraScout™ 6DoF accelerometer is 0 Hz (DC) to 1,000 Hz and the gyro sensor is 0 to 140 Hz. Units are ruggedized to 3,000g shock.
Click here to visit Dytran website and add to RFQ Cart
Features:
Apply post–processing analysis to record data from VibraScout™ 6D sensor
Contains an innovative 8–pole elliptical anti–aliasing filter
Measures X, Y, Z acceleration, along with roll, pitch, yaw
Real time display of acceleration, gyro and temperature data with 5 seconds of buffer
Test Log to display RMS, Max, Min, and pk–pk plots for overall recorded data
"Scope Preview" feature for data playback
Single and double integration for velocity and displacement calculation
User defined filters for each individual channel
FFT and octave analysis
Multi–channel overlays
One click export of all plots and text files to data file directory
Applications:
Develop "Pass/Fail" criteria for vibration or shock–based "end of line" acceptance testing
Product graphics, charts and data for reports and white papers
Document "before–and–after" condition to assess effectiveness of design changes
Perform ride quality and other "whole body" human response studies"
Establish the basis for a simplified machinery condition monitoring program
Quickly quantify and pinpoint sources of unwanted vibration
Measure tilt angles on heavy equipment, construction sites, and structures
Survey anything to get a feel for what's happening– the first step towards fixing it!
How it Works:
The components that makeup Model 5384 include: 6DoF accelerometer model 7586A2, 4-pin to USB cable 6330A15 and software toolkit 9013. Accelerometer model 7586A2 is a 6 degrees of freedom sensor that combines a 3-axis MEMS accelerometer, 3-axis gyro sensor, with a microcontroller to create a smart sensor. The software can be downloaded from the Dytran website and can easily be uploaded to your PC or laptop. The supplied USB cable can handle all the sensor communications with the PC; no external power is required for the sensor, simply plug into the USB port. The sensor is hermetically sealed in a titanium housing weighing just 25 grams, allowing it to be used in harsh environments from test tracks to field monitoring. The frequency range of the triaxial accelerometers in the VibraScout™ 6DOF is 0 Hz (Dc) to 1,000 Hz. Units can withstand 3,00g shock.
VibraScout™ 6DoF System Includes:
1 Model 7586A2, 6DoF USB powered triaxial accelerometer, 14g
1 Model 6330A15, 15-foot cable assembly, 4-pin to USB
2 Model 6952A12 Mounting Screws (6-32)
2 Model 6689 Mounting Screws (M3x0.5)
All components mentioned above are supplied in a convenient carrying case
1 Model 9013 Software Tool Kit (downloadable on the dytran website)
Start your vibration adventures today with VibraScout™ 6DoF. Contact our Sales Department to learn how you can take the first step toward a New Frontier of discovery in the exciting field of vibration analysis!
Contact us: 1(818)700-7818, sales@dytran.com