Industry's first CBRAM® for Space
Featured Product from Teledyne e2v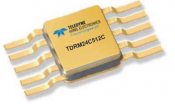 The TDRM24C512C-L uses Adesto Technologies' proprietary CBRAM (Conductive Bridging RAM) technology and provides system designers a faster and lower power alternative to legacy serial EEPROMs. The TDRM24C512C-L was designed on a process that has shown to be radiation tolerant, making it a good choice for satellites and other high-altitude applications. For more information on this new CBRAM® for Space, visit www.e2v.com/products/semiconductors/memory.
"Teledyne provides many types of semiconductors qualified for various ruggedized environmental requirements," said Mont Taylor VP Business Development Manager at Teledyne e2v. "We're pleased to be able to incorporate CBRAM technology into our product offerings and excited to provide very low power memory to help customers reduce power requirements on satellites and save cost."
Teledyne e2v's Hi-Rel resistive memory offers a 100K write cycle endurance and data retention of greater than 40 years at 125°C. The memory is available now and is packaged in a 10-lead Ceramic Flat Package.