Mud Pumps
Product Announcement from E.C. Tool & Supply Co.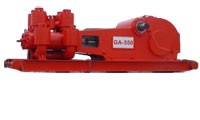 E C Tool has more than 40 duplex pumps in inventory. We only sell pumps after we have completely rebuilt both the gear and fluid end, so you can be assured you are receiving a top quality product. We also offer NEW Great American duplex and triplex pumps to meet your mud pump needs.
We feature duplex and triplex mud pumps from Brewster, Emsco Mudpumps, Gardner Denver, National Oilwell, and others.
ABOUT E C Tool:
EC Tool was founded in 1962 by E L "Slim" Coker as a supply store and tool rental company serving drilling contractors. E C Tool has survived the ups and downs of the drilling industry for 41 years and continues to specialize in serving drillers worldwide.
---