Triplex Reciprocating Mud Pump
Product Announcement from E.C. Tool & Supply Co.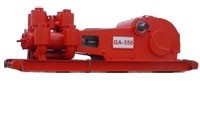 Long recognized as the pump of choice for the typical petroleum rig, the Great American Mud Pump from E.C. Tool Supply has been engineered to circulate drilling fluid up to 7,500 psi down the drilling string and back up the annulus.
These pumps incorporate both suction and discharge pulsation dampeners to reduce severe vibration caused by the pumping process, which are connected to the inlet and outlet of the fluid end.
Because the components of the fluid end (valves, pistons and liners) are considered high wear items, the pump has been designed to allow quick replacement of these parts, which is another benefit provided by E.C. Tool Supply with over $500,000 in parts inventory for these pumps.
Additionally, E.C. Tool Supply offers rebuilt mud pumps (complete rebuild on both the gear and fluid end) so you can be assured you are receiving a top quality product.
Be sure to contact E.C. Tool Supply today to discuss your specific drilling pump application needs!
---