EDrive Tac ET Actuator
Featured Product from EDrive Actuators, Inc.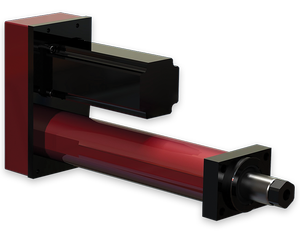 Cost Effective, High Quality, Low Force
The Tac ET ball screw linear actuator series was developed to provide a high quality, rugged and durable linear actuator for lower force applications. Using an aluminum body with steel components, chrome plated heavy wall steel piston, and steel/bronze anti-rotation, this fluid power replacement linear actuator ensures rigid alignment of critical bearing supports.
Key Features:
Provides a high quality, rugged and durable linear actuator for lower force applications
Cost effective with thrust up to 300 lbf
Piston with rugged anti-rotation feature
Velocity up to 33 in/sec, Stroke up to 12 inches
**************************************************************************
**************************************************************************
About EDrive Actuators, Inc.
Founded in 1980, EDrive pioneered the evolution of precision electromechanical actuators with our first patented design. Over the years, our business has grown based on our philosophy of design flexibility and rapid response to our customers' requests. While we offer "standardized" product lines we regularly customize based on specific needs.
Heavy-Duty Linear Actuators

EDrive Actuators, Inc. manufacturers electric heavy-duty linear actuators for tough, industrial automation applications. Our products are used in a wide variety of industry applications where conservative design, rugged construction, long life, and high precision are required and valued. More specifically as replacement for older power solutions like hydraulic and pneumatic linear actuators. There is a reason why an ever-increasing number of machine builders are switching to electric linear actuators.
Benefits of Electric Actuation:
Cleaner, quieter, and more energy efficient
Improved performance
Less maintenance required
More accuracy and repeatability
More flexibility and scalability
Higher speed and force
Higher system stiffness
Lower operating costs
EDrive customers enjoy an unsurpassed commitment to superior quality, integrity, and customer service. Our experienced staff provides technical support as needed to assist in specifying the most appropriate solutions. Whether you need a standard product or a fully customized actuators EDrive is your answer.