Hydraulic Actuator Replacement - High Precision
Featured Product from EDrive Actuators, Inc.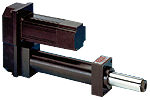 EDrive MT PRECISION™ linear positioner actuator is less expensive and much easier to align than traditional ball screw component systems. As a sealed assembly, the MT PRECISION™ hydraulic replacement is far less susceptible to contamination and much easier to maintain than accordion style or sheet metal covers.
MT PRECISION™ Alternative to is Ideal for New Applications or Old
These electromechanical actuators are ideal for new applications as well as direct replacement for older mechanical and hydraulic drive systems. When used as a drive for modernizing existing machines to the latest CNC technology, design time required is minimal, as is the actual modification of the machine components. As engineers strive to refine and improve the production process, the MT PRECISION™fluid power replacement actuator provides flexibility in motion, repeatable position under varying load conditions, and a rugged and durable steel construction typical of machine tool designs.
EDrive Actuators, Inc. has, since 1980, shown consistent success in the toughest automation, hydraulic and pneumatic replacement machine tool applications, e.g. High loads, varying loads, high speeds, high precision, and extreme durability. Precision ground ball screw systems, tailored for maximum life, load, and stiffness, provide linear motion while fully enclosed, thus avoiding contamination related failures. A long bronze nose bearing provides support for the extended piston.
While other actuator designs force a particular motor decision, the MT PRECISION™ is designed to suit virtually any motor, gearbox, or gear head the customer chooses to use. In-line and parallel offset configurations are standard. A coupling is provided for the in-line option and synchronous gear belt and pulleys provided for either 1:1 or 2:1 ratios when parallel offset.
Machine tool principals and guidelines ensure robust sizing of all components. Traditional front flange, bottom, foot, and trunnion mounting capabilities are available.
MT Precision Linear Actuator Benefits
High System Stiffness:
Repeatable positioning even under varying loads
Flexibility Means the Motor Choice is Yours:
Accepts most motors without separate adapter plate
Machine Tool Grade Components:
Provide accumulative accuracy essential to modern manufacturing
High Stiffness Components:
Provide superior response
Sealed Chamber Design (IP54):
Avoids contamination
Rugged Steel Construction:
Supports large, high torque servo motors
Continuous Duty Designs:
Ensure reliability and longevity
Variety of Standard Mounting Options:
Make it easy to mount and align