Lighting Components
Product Announcement from Elmet Technologies, Inc.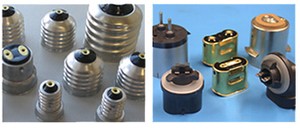 Elmet Technologies offers a full array of lighting components both as a manufacturer and as the exclusive North American representative for Philips Lighting components produced globally. Their component market basket includes, but is not limited to, coils and filaments, specialty leads and supports, lamp bases, phosphors, and HID arc tube burners. Please contact them for any of your lamp component needs.
Lamp Filaments
Elmet is a world class global manufacturer of tungsten lamp coils, wire filaments, and other specialty components to lighting manufacturers for a broad spectrum of lighting requirements. Specialty components are designated by Elmet Technologies as leads and supports products while tungsten wire components generally fall into two broad categories of product: incandescent/halogen and fluorescent.
Incandescent and Halogen Filaments
These wire filaments are the light source for incandescent and halogen lamps. There are thousands of filament designs which have been developed over time based on changing lamp technology and lighting requirements, and new designs are being developed in the lighting industry on a daily basis. Such filaments vary with respect to many parameters such as basic coil type (single coil or coiled coil), bulb shape, gas fill, service life and lumen output. Elmet coil engineering personnel have wide experience in wire filament design and welcome customer inquiries.
Fluorescent Filaments
Fluorescent coils, unlike incandescent filaments, are not true light sources, but more correctly, energy sources. Such coils are also referred to as exciter coils or cathodes. They are given an emission material coating after coiling, and their function inside of the lamp is to provide a flow of electrons which activate the light-producing fluorescent phosphors.
Fluorescent lamp coil designs are considerably more limited in number than those of incandescent filaments. As a result, the product line is somewhat more standardized: Elmet is pleased to offer such standard types of coils, as well as modifications of these for specific customer requirements.
Leads and Supports Lamp Components
Elmet Technologies designs and produces a multitude of specialty-formed metal parts utilizing molybdenum, tungsten, aluminum, niobium, nickel, and other materials. These specialty components include, but are not limited to, metalizing coils and aluminum crimps, straight cuts, connectors, and stranded wire.
Lamp Bases & Caps

Elmet Technologies, through its representation of Philips Lighting base/cap plants located in Europe, provides North American customers with lamp base products globally recognized in the lighting industry for their world class quality.
In representing the world's number one supplier of caps, Elmet Technologies is able to satisfy their customers by offering the highest quality, outstanding support and logistics as well as continuous innovation for lamp base products. Elmet carries the complete product range of caps, which are primarily used in the lighting industry for such applications as CFL, GLS, fluorescent lamps, halogen lamps, automotive, HID and special lighting.
Lamp Phosphors
Elmet Technologies carries fluorescent powders made by Philips Lighting that are used in fluorescent (TL), and high-pressure and low-pressure mercury discharge lamps. Today, the phosphors group develops and manufactures two main groups of lamp phosphors: triband phosphors (80 colors) and specialty phosphors, such as UV phosphor.
Triband phosphors (80 phosphors) are based upon inorganic material containing 'rare earth' elements. A combination of red, green and blue results in a 50% increase in efficacy with regard to standard phosphors and excellent color rendering properties. Philips Lighting was among the first to introduce Triband phosphors on a worldwide scale and they are proud of the know-how they have built and the ongoing developments in this area. Triband phosphors are available in ready-for-use premixed blends or in single components.
Specialty phosphors consist of a wide variety of chemical compositions, again based on 'rare earth' elements. They are often developed in close cooperation with their main customers, with which they have entered into long-term relationships. The phosphors are used in e.g. tanning lamps, in water purification applications and in non-lighting applications.
Because of Philips Lighting's extensive know-how of raw materials and production processes, this has contributed to their current standing of being one of the largest phosphor manufacturers in the world. In partnering with Philips, Elmet Technologies is able to offer customer product-driven innovations as well as technical support, including assistance with the suspension making process. With the industry's continuous demand for coating weight reduction, Philips has taken a leadership role in striving to meet this requirement.
HPS Arc Tube Burners
Elmet Technologies supplies high pressure sodium (HPS), mercury vapor (MV), and metal halide arc tube burners to lamp assembly operations for many applications. Standard HPS types and specifications are listed here; but please also contact them for any of your metal halide and mercury vapor requirements.
---