Acceleration in Motion
Service Detail from E-Labs, Inc.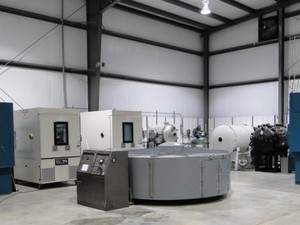 Acceleration in Motion
The centrifuge machine at E-Labs is used during acceleration testing is used to detect structural and mechanical strength limits in objects that experience constant speed and motion
Watch>>E-Labs on TV
Take the>> E-Labs Photo Tour
Need Testing done to a specific standard? View our list of: Military and Commercial Testing Specifications and Standards.
About E-Labs
E-Labs is a Full Service Testing Laboratory that offers our customers access to our state of the art facilities and knowledgeable personnel. Our personnel have over 70 years combined laboratory experience with disciplines for aerospace, automotive, military, commercial, utility, electronics and IT industries.
At E-Labs, we perform Climatic Testing for issues such as Temperature, Humidity, Salt Fog, Sand and Dust, Immersion Testing and more. We also offer full EMI and EMC Testing, andDynamics Testing such as Mechanical Shock, Lightweight Hammer Shock, Transportation, and Vibration Testing. Special testing such as explosive atmosphere, high pressure, high vacuum, Helium leak detection and fungus are also performed at our facility.
E-Labs offers simulation services from cradle to grave, from concept to analysis, test planning, fixture design and fabrication consulting to testing in the lab. We can help develop Qualification, Acceptance and Reliability test plans for your product as well. E-labs has two facilities with a combined floor space of over 30 thousand square feet with the ability to remotely perform hazardous testing among others.
With our capabilities, we can help you determine the durability and life expectancy of your product. Whether it be a sub-component or finished product, we can help determine if it meets your expectations, or where improvements can be made. Whether you want to compare your product to the competition, or try out a new concept, we can help.
Contact E-Labs now to find out how we can assist you with your testing needs.
Click to download our brochure